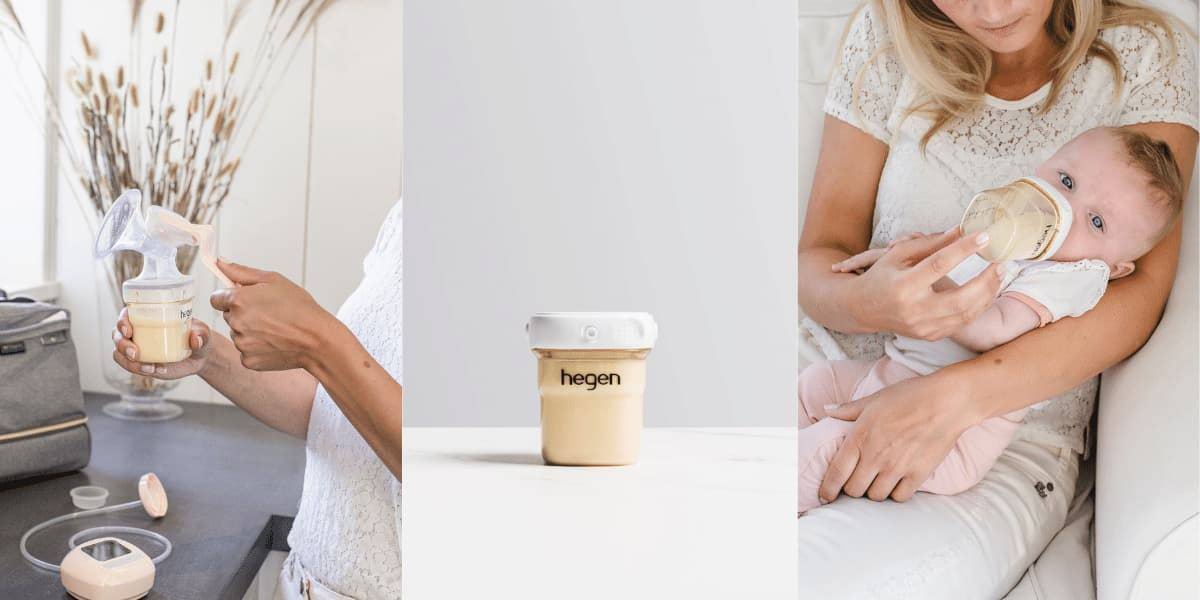 Not

 A 

Singular Use

 

Bottle
A collective of products for every step of your breastfeeding journey and beyond.
"Not only are these bottles stackable, which is a brilliant design and storage idea. But when the baby outgrows the bottle, it turns into a storage container or a water bottle."

Curated products for every milestone from 0M to 24M+
---
Did you know...
That our containers can be reused?
Click the links below to see the accessories available.
---

Hegen is designed with high quality standards. Our PPSU is FDA compliant food-contact grade material. Made free of BPA, BPS, Phthalates and PVC.

Reuse your Hegen containers as storage containers for anything from pureed, fruits, snacks, jewelry, drinking bottle & more.

We've partnered with Verdn to donate a portion of sales from every unit sold. Donation goes to planting trees with Eden Reforestation Projects.
---
Only four parts needed with no screw thread closure
Expand To Watch How To Assemble A Hegen Baby Bottle
| | | | |
| --- | --- | --- | --- |
| Materials | Heat Resistance (°F) | Shatter-Resistant (Toughness) | Durability |
| | | | |
| | | | |
| | | | |
| | | | |
The right nipple makes for a happy feeding experience
Our nipples are asymmetrical and off-centre to allow for a natural upright feeding position at a 20 degrees tilt, similar to nursing from the breast.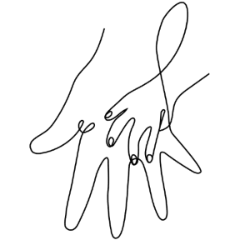 Built in anti-colic vent helps bypasses the milk to prevent aeration and minimizes the oxidation of precious nutrients. This reduces excessive air intake, safeguarding your baby from tummy upsets.
Simply swap to the choice of nipple dependent on baby's feeding habits. All our nipples can be used with any of our bottle sizes.
Scroll ← or → to see which Nipple Size best fits you!
Congratulations on your beautiful bundle of joy!
We've created Gift Sets packed with selected essentials. May these gift sets bring simplicity on your new journey.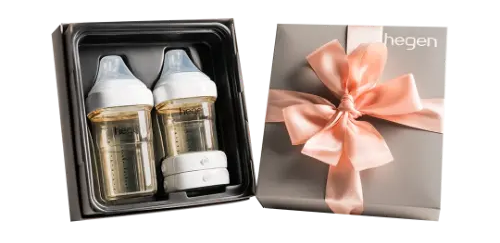 Start the feeding journey prepared with the starter set from Hegen. Express breast milk into the containers and store using the included storage lids. When you're ready, remove the storage lid and replace with a collar and nipple. Never waste a precious drop!

Start your feeding journey with this gift set so that everything single drop of your precious nutrients will count. Attach the breast pump to express directly into our Hegen containers. Swap the breast pump for a storage lid & convert that container into an air-tight storage. When feeding is needed, reheat the container to desired temperature and change the lid to collar with nipple.